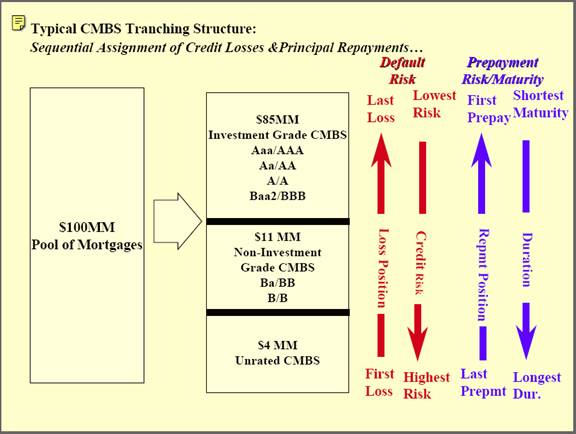 Articles with similar titles are sprouting up in the financial media now, so I thought it would be worth posting a link to John Mauldin's excellent essay on this from last August,
"The Panic of 2007"
. Mauldin's essay includes helpful charts such as the one above and offers a lucid explanation of CDOs comprised of mortgage backed securities.
One suggestion Mauldin had back then for ameliorating the crisis was for Warren Buffett to take over Moody's, which he owns about 20% of through Berkshire Hathaway (as he took over Salomon Brothers years ago), to restore faith in the rating agencies. Of course, that didn't come to pass (instead, Buffett later created a muni bond insurer, Berkshire Hathaway Assurance, to profit from the crisis in which Moody's and the other rating agencies played a supporting role) but I wonder if it would have helped anyway. At Salomon Brothers, the problems were regulatory violations (of Treasury auction rules) that Buffett wasn't aware of (and of course wouldn't have condoned) at the time they were committed; at Moody's the problem was the way it did business, awarding triple-A credit ratings to so many questionable mortgage backed CDOs. As an insider, one would think that Buffett would have been aware of this practice at the time, so he might not have had the same credibility coming in to clean the stables at Moody's that he had coming into Salomon.