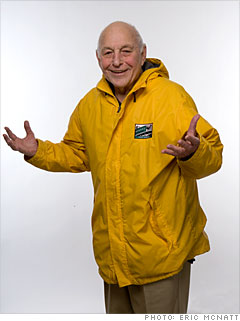 Investopedia
notes
(Hat Tip:
The Guru Five
):
Value investor Marty Whitman, head of mutual fund firm Third Avenue Management, recently had this to say (along with Senior Research Analyst Ian Lapey) about the markets, "Third Avenue wishes it had more liquidity, because then management would have been heavy buyers of high-quality equity securities, which are now as cheap as either of us ever remember them being."
I'm sure Whitman's investors in his Third Avenue funds wish they had more liquidity too. Perhaps they would, if Whitman & Co. hadn't lost so much of their money last year. This raises a question about the role of risk management and hedging in open end mutual funds. Long-time value investors such as Marty Whitman may have the iron stomachs to handle what many value investors term "quotational losses" (or, as most other investors call them, "losses"). But one of the challenges of running an open end mutual fund is that investors with lower risk tolerances will invariably redeem their money while many of the fund's investments are down, forcing the fund manager to sell positions at a loss to meet those redemptions. Wouldn't it make sense to plan for this contingency by hedging, increasing cash levels in up years, or by some other means?
The photo above, of Whitman, comes frm this Fortune article:
Five Funds for 2009
.