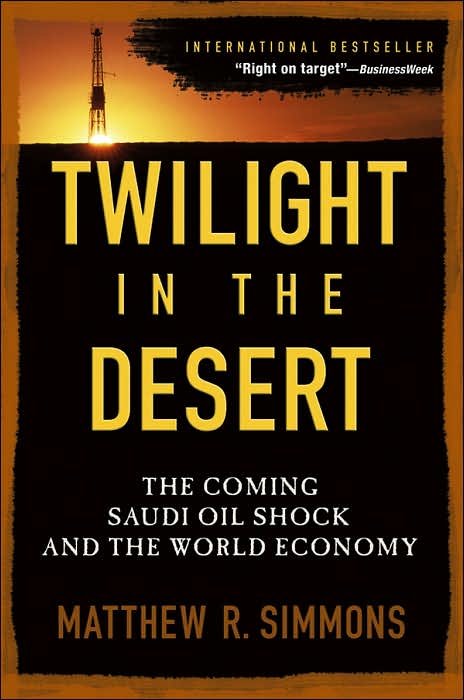 Hat tip to
Aaron Edelheit
for this PDF of Matt Simmons's PowerPoint presentation to the Commercial Club of Boston last month:
"The Oil and Gas System is Sick"
. I hope it won't ruin any surprise if I tell you that Simmons, the author of the book
Twilight in the Desert
, thinks oil and natural gas prices are heading much higher. I happen to agree, but I'd feel surer if Simmons offered a compelling explanation for the massive correction in oil and natural gas prices last fall. On p.33 of the PDF he lists three common explanations,
–Speculators left the game that created spike
–Unraveling economy killed off demand
–Gluts are now endemic:


~Tank farms brimming with oil
~Super-tankers now floating oil gluts



■But, none of these "facts" were true.
■Only clear fact: "Crude oil fell 74% in 12 weeks" (September 22nd–December 22nd).
And then on P.34 Simmons offers this,
Are We Missing "The Black Swan?"

■Credit default swap index soared as crude oil plunged.
■Credit freeze began when oil collapsed.
■This had to hurt traders' ability to own oil contracts.
■If any traders ever had to liquidate contracts, this would cause oil prices to temporarily fall.
■Glencore(aka Marc Rich & Co AG) Energy Trading credit default swaps illustrate the squeeze.
Which seems to contradict his point on the previous slide that the collapse wasn't the result of speculators leaving the game. Perhaps Simmons explicated this during a Q&A.
The image above, of the cover of Simmons's book, comes from Barnes & Noble's website.