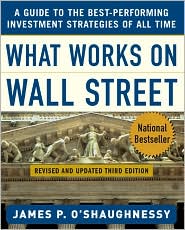 Leafing through James O'Shaughnessy's book
What Works on Wall Street
last night in Barnes & Noble, I came across this:
Almost all the superior returns offered by small stocks come from microcap stocks with market capitalizations below $25 million

[...]

The microcap returns absolutely dwarf their nearest competitor, the $25 million to $100 million group.
O'Shaughnessy also writes that the sub-$25 million market cap stocks outperform all other market caps on a risk-adjusted basis as well. This is consistent with the research by Athanasios Bolmatis and Evangelos Sekeris we referred to in a post a few months ago (
"Why Worry about Small, Thinly-Traded Stocks"
). Bolmatis and Sekeris conducted a study that found that,
Stocks that have no-trade days outperform other stocks by a wide margin, even after correcting for their higher risk as captured by their larger betas.
Even though sub-$25 million market cap stocks have the highest risk-adjusted returns as a group, O'Shaughnessy writes that they are almost impossible to buy, and cites a liquidity study conducted by Lehman Brothers in the 1990s in support of this. This conclusion seems a little dated. Professional value investors such as Paul Sonkin of Hummingbird Value and Aaron Edelheit of Sabre Value have successfully invested in sub-$25 million market cap stocks, and individual investors can buy them as well, if they have patience and use limit orders.