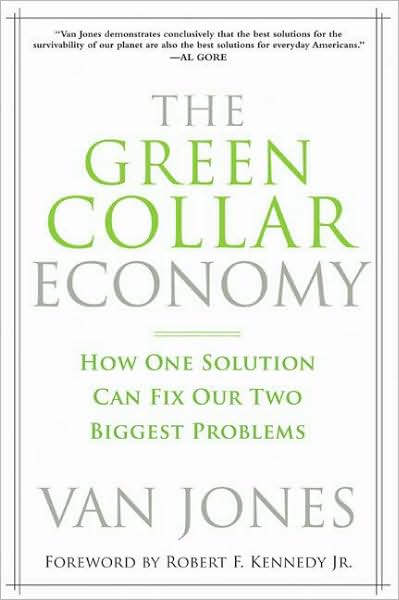 In a recent post (
"The Election"
) we speculated on some investment implications of Obama's victory and noted the conventional wisdom that this was bullish for green tech. In Barnes & Noble yesterday, I leafed through the book pictured above, by Van Jones
1
. Van Jones sees green tech as a jobs program for blue collar workers, who can be employed building windmills, putting up solar panels, retrofitting buildings, etc.
I'm skeptical of how much of America's energy needs can be filled by solar and wind, but Jones seems to have a handle on the zeitgeist of today's progressives (i.e., liberals). Below is a short video of Jones giving the elevator pitch for his idea.
1
Van Jones is an attorney by profession, as is Robert Kennedy Jr., who wrote the forward to Jones's book (Kennedy became an environmentalist after he was busted for heroin possession in the early 1980s, and did community service for
Riverkeeper
as part of his plea bargain). In fact, most of the blurbs praising Jones's book come from those without science backgrounds. The tendency of environmental advocacy groups to be run by non-scientists was one noted by Michael Crichton in his novel
State of Fear
.